Environmental Cleanup
Facing Today's 21st Century Environmental Challenges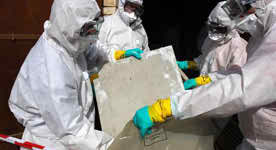 Because of the many environmental challenges that often face homes and commercial businesses, EnviroPhase offers a large variety of environmental testing and clean-up services specifically designed with each client in mind. EnviroPhase specializes in environmental concerns that could lead to financial liability, or issues that could significantly impact the property value or future use of a site. EnviroPhase specializes in environmental concerns of homeowners and commercial real estate including mold inspection, asbestos surveys, radon inspection, tank removal, as well as large scale environmental site assessments. EnviroPhase has been specializing in environmental cleanup and site inspection for over 10 years and has the experience and knowledge that translates into real savings for the customer.
Environmental Cleanup Assessments
EnviroPhase offers some of the most thorough environmental site assessments services of anyone in the industry. The purpose of these assessments is to identify and assess any characteristics that maybe of any environmental concern. These assessments are broken up into two categories, Phase I and Phase II. Phase I consists of obtaining and reviewing photographs, site reconnaissance, agency records and environmental reports that will provide comprehensive information on the environmental conditions of the area. If the findings of the Phase I environmental site assessment suggest some type of potential environmental contamination, EnviroPhase will recommend a more thorough Phase II assessment.
The purpose of a Phase II assessment is to obtain definitive evidence of contamination through sampling and testing to define specific remediation and cleanup strategies. Phase II assessment will typically involve the sampling of building material and stored wastes, as well as the testing of groundwater, soil vapor and soil samples to look for the presence of any toxic or hazardous waste materials. After issuing a detailed report of their findings, EnviroPhase will conduct a face-to-face meeting to discuss the project findings and further remediation strategies needed.
Managing Your Company's Environmental Cleanup
EnviroPhase can help your company to successfully manage any environmental cleanup and remediation projects including mold, asbestos, radon, tank removal, on-site structural and maintenance business inspections, just to name a few. EnviroPhase has the experience and the expertise to literally save your company thousands of dollars in possible lawsuits, and environmental liability issues. EnviroPhase is dedicated to the highest caliber of environmental clean-up services possible and has a proven track record of consistently producing the highest quality work, while maintaining high ethical industry standards.
To Request a Quote click here or call (817) 266-5143.