Tank Removal Services
Risks of Abandoned Fuel Tanks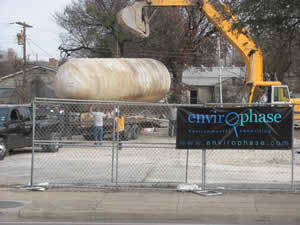 Many companies may not realize, but abandoned and leaking fuel tanks, also known as Leaking Petroleum Storage Fuel Tanks – LUST's or PST's, can pose a significant health and environmental threat if left unattended. Because plumes of hazardous petroleum can migrate through the soil into the ground water, there is a significant risk of contaminating drinking water, and causing further environmental damage to the surrounding area. If left unattended, fuel tanks can cause serious problems for property developers and lenders on commercial real estate.
Because abandoned and leaking fuel tanks can cause major environmental problems for existing property owners and prospective buyers, the best thing you can do is to eliminate the problem as soon as possible. EnviroPhase has over 10 years of experience in onsite inspections and tank removal and has the expertise to ensure that your tank is removed safely and successfully.
Underground Storage Tank Removal Process
EnviroPhase will submit an inquiry to the Texas Commission on Environmental Quality (TCEQ) to determine the size, construction type, and age of all tanks associated with the subject property and file the required 30 construction notification form to the TCEQ for the removal and obtain all permits required by the municipality in which the tanks are located.
Once all applications and permits are approved a Vac-Truck will be used to remove all of the residual contents of the tanks. The tanks will then be opened and cleaned on-site, and all associated piping and equipment will be removed and properly disposed of.
The tanks are then manifested and loaded on to trailers and properly disposed of according to the Texas Commission on Environmental Quality (TCEQ) Guidelines.
Sampling of soils and tank pit water if encountered is submitted for laboratory analysis
Once laboratory analysis is completed a Release Determination Report is submitted to the TCEQ and site closure is requested. Depending on the results of lab analysis additional environmental site assessments may be required for the TCEQ to actually grant closure.
EnviroPhase has the experience and proven track record to ensure the highest quality tank removal in the business. Our experience and knowledge can translate into real savings for your company, as well as offering the quick turnaround time that many companies need.
Request a Quote or call (817) 266-5143 for the DFW and surrounding areas of North Texas or (817) 266-5143 for Houston and areas in South Texas.